If you spend a lot of time on Instagram, you've probably already heard of Townske. For those of you who haven't, Townske is a platform to share and discover hidden places in every city in the world. In their own words:
"We make travelling more fun by uncovering the hidden venues that you're sure to love in every city in the world. You see, we believe that great recommendations aren't just about places, they're about people. We help you find your people and trust their recommendations. When you use Townske, you're not a tourist, you're a local."
A lot of my favorite Instagrammers spent the summer promoting city guides they had posted on the Townske website. In August, I was invited by a member of the Townske team to create a guide to some of my favorite local places for their website. This month, the Townske team launched an app to accompany their site. I've spent the last few days test driving it, so here are thoughts on it:
Design: 4/5
I've always been a fan of the website's design - it's very clean and minimal and really allows the photos to stand out - so I was pleased to see that the app didn't disappoint. The design is very sleek but not obtrusive. I've always felt that one of Townske's strongest areas is the user-submitted photography (there are some seriously talented people featured!) and the designers of the app seem to agree. Many of the photos that were cropped on the website are now full screen in the app. My only complaint is that preexisting guides created on the website don't have a mobile format as well. The photo layouts from Townske.com are retained on the app, rather than shifting to a more phone-friendly look. It's a small issue, and one that will hopefully be fixed in a later update, but it did prevent me from giving the app 5 stars.
Ease of use: 3/5
The app isn't as user-friendly as the website. It isn't impossible to navigate, but certain gestures feel very counter-intuitive. For example, once you've clicked on a guide and started to read, the navigation at the bottom of the screen changes. In the few days I've had the app, I've attempted to click on the Explore or Notifications buttons from within a guide, only to accidentally like or share it instead. The only way to get back to the home screen (and regular navigation) is by hitting the back arrow from the guide. I guess I'm too used to apps like tumblr, where you can immediately get back to your dashboard from any page, because it was a constant source of annoyance for me. It also crashed pretty frequently when I first tried to log on, but I'm assuming that's only due to how new the app is.
I did like being able to search or click on a place and see all the photos and guides it was featured in. The rest of the app is also pretty easy to figure out, but I don't think it'll be truly user-friendly without a few updates.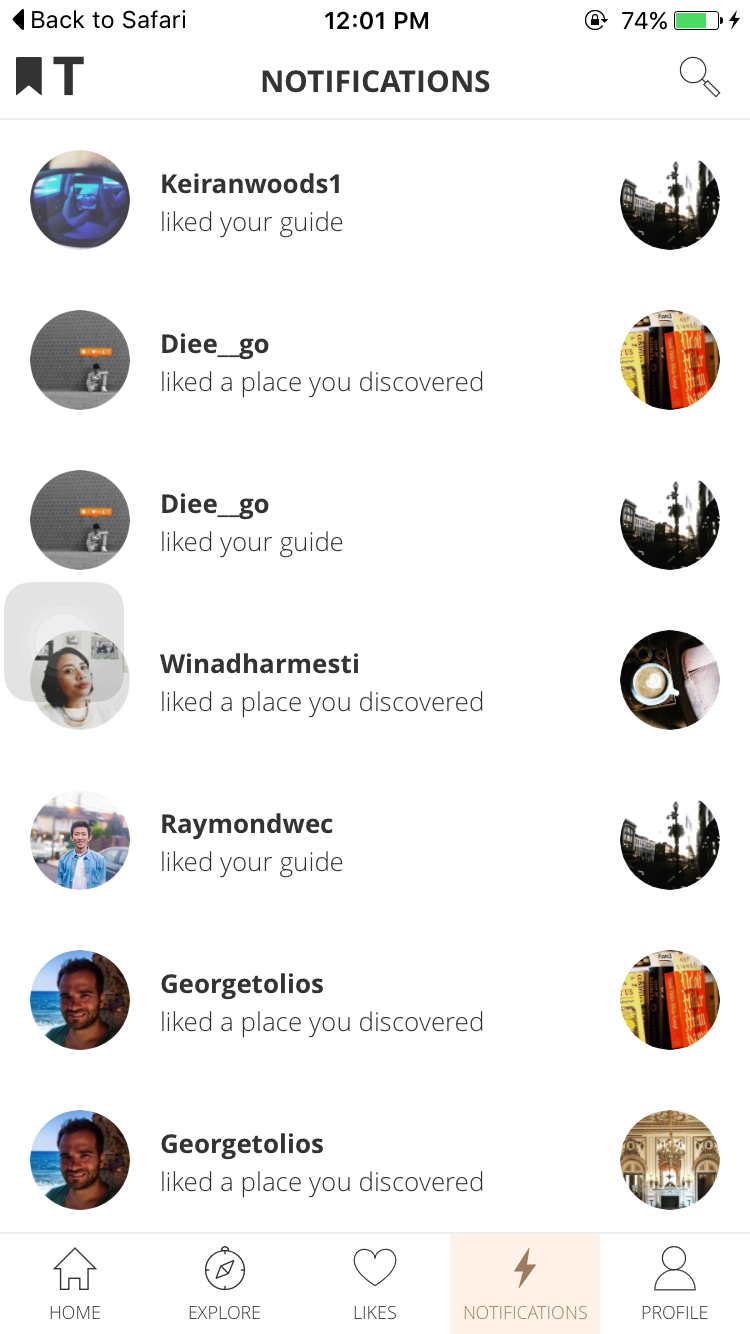 Utility: 4/5
I really love using Townske to discover new places. I've spent a lot of time in the car looking at cities all around the world using the Explore tab and creating a little wishlist of likes so that I can find the places I want to visit later. The ability to search other users' likes near you is also great - I already have half a dozen new coffee shops and bookstores to check out! I do wish users could upload and edit guides or add new places through the app. I'm more likely to add places that I've discovered through the app because I always have my phone on me, but I'm much less likely to do so once I've gotten home from a full day out. The Townske community would be much more engaged if the app contained more of the website's features.
Overall: 4/5
Townske is an innovative and visually impressive app that allows its users to discover new places nearby and around the world. Although it is relatively new, it already has dozens of excellent city guides and high-quality photography that make browsing the app an enjoyable experience even if you don't plan to visit any of the cities featured.
Will any of you be downloading the Townske app or creating a city guide of your own? Let me know in the comments!
Disclaimer: I am not affiliated with Townske in anyway & I received no compensation from them to post this review. All opinions and content are my own.